Deng Delong Appointed Global President of Trout & Partners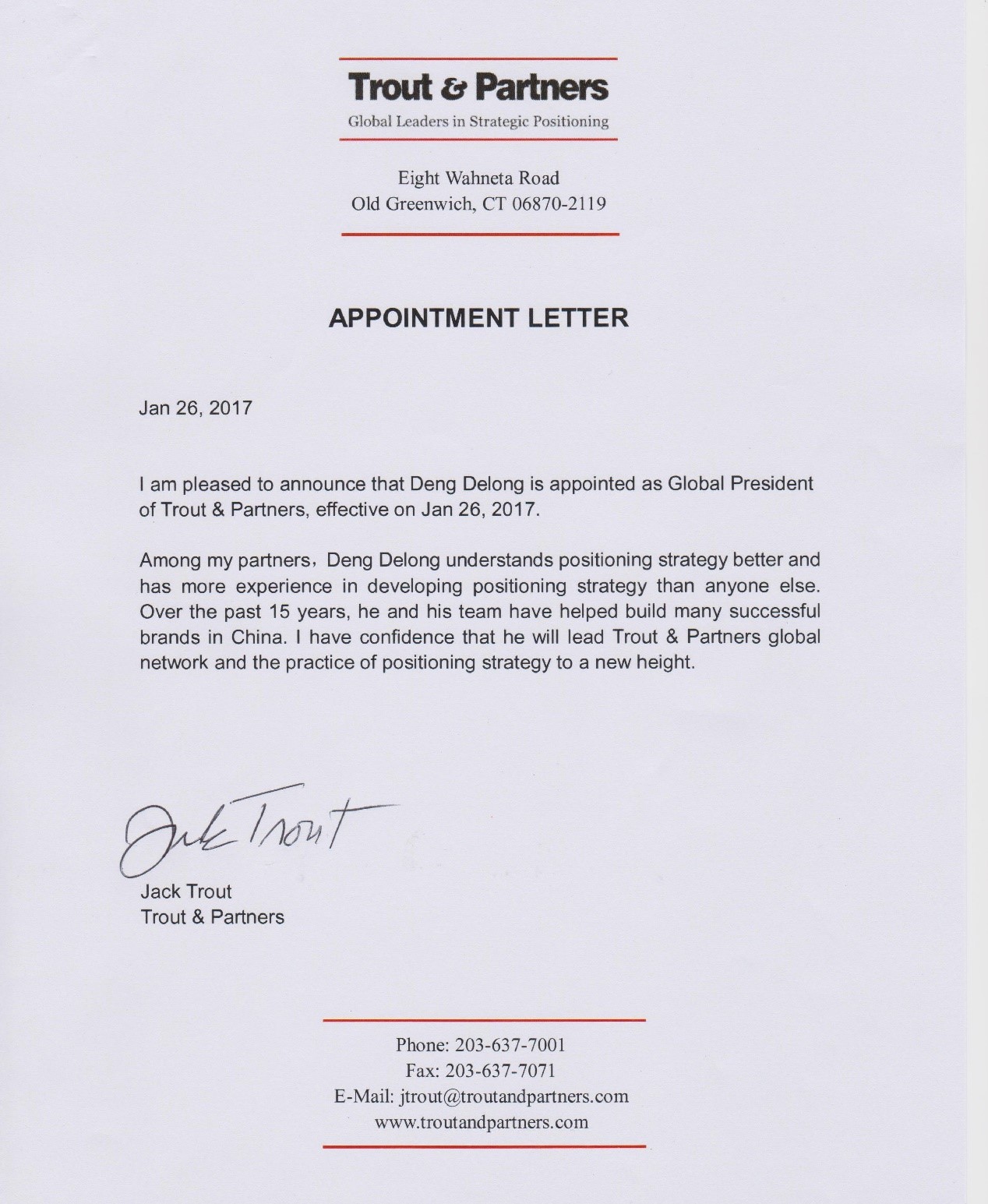 Global Partners Conference of Trout & Partners held in Shanghai
On September 20–21, 2017, the global partners conference of Trout & Partners was held in Shanghai-based Lujiazui. Partners from various countries and regions including Italy, Russia, India, the Middle East, and the Philippines gathered in Shanghai, sharing the business practices of positioning theory all over the world and discussing the future development of the global network of Trout & Partners.
Mr. Trout once said, "Marketing originated from the USA, but the emphasis has shifted to the East. As China's economy shifts to a market economy, positioning theory will be increasingly important." Founded in 2002, Trout & Partners (China) is dedicated to bringing the best strategic positioning practices employed worldwide to China and assisting Chinese enterprises to lead strategies with positioning to help them realize more efficient operations and become the typical examples for relevant industries. This year marks the 15th anniversary of Trout & Partners (China). The global partners of Trout & Partners came to Shanghai by availing themselves of this precious opportunity to exchange their latest examples and achievements in positioning practices.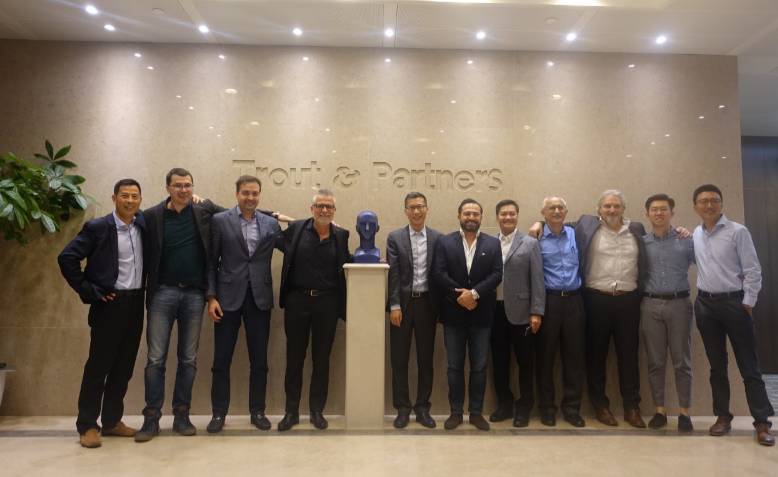 According to Mr. Deng Delong, Global President of Trout & Partners, the business of Trout & Partners has been globalizing since Raul Peralba, a partner from Spain, joined the company in 1990. After more than two decades of development, the network and business of Trout & Partners have reached 24 countries and regions, making it a leading global strategic positioning consulting company.
Mr. Deng Delong believes that the positioning theory invented by Mr. Trout is much like the steam engine invented by James Watt. Like steam engines that were applied to steel making, spinning, and trains, the partners all over the world have applied positioning theory to various countries and different industries, greatly promoting the revolution of productive forces.
According to Mr. Prakash Idnani, a partner from India, the partners of Trout & Partners practice positioning theory and principles worldwide as the most intimate friends. Later on, he shared the case of applying the positioning theory to Bajaj Auto, India's largest manufacturer of motorbikes. With the guidance from Mr. Trout and Mr. Idnani, the company successfully coped with competition from Japanese motorbike brands, helping this traditional Indian family enterprise gain new vitality.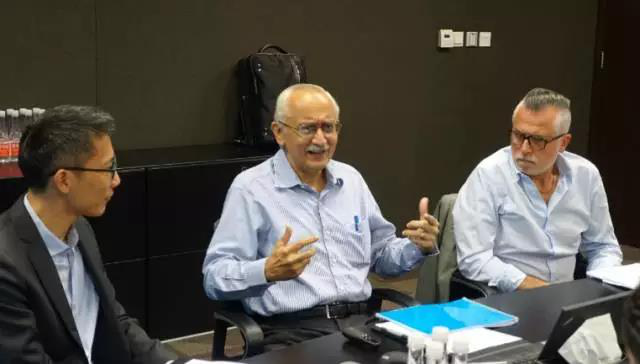 Mr. Evgenii Kadushin, a partner from Russia, shared his positioning theory learning process, marveling at the seemingly simple but powerful concept of positioning theory. After 12 years of development, Trout & Partners (Russia) has established powerful service networks, providing positioning consulting services for over 100 enterprises from industries such as communications, finance, energy, and retailing. In addition, Mr. Kadushin has creatively developed learning software related to positioning theory to allow more people to understand and study the concept.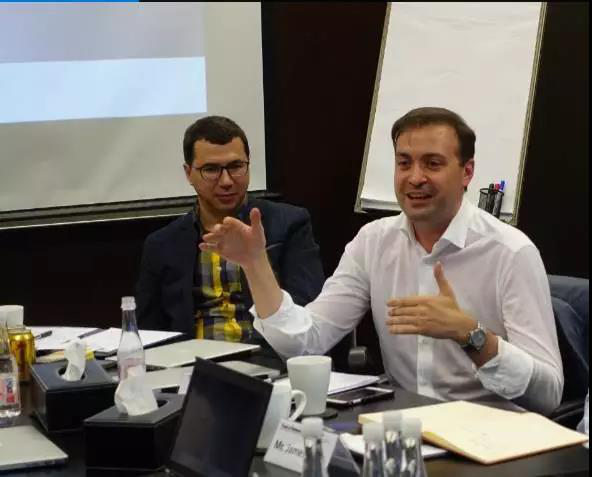 Italy is famous for exquisite designs. Mr. Michele Bondani, a partner from Trout & Partners (Italy), has developed the concept of positioning theory for packaging design by using regional mental resources and combining positioning theory with design. The positioning of an enterprise is expressed with a simple but explicit design for product packaging allows the enterprise to win the preferred choices of customers. So far, the company has provided services for hundreds of brands for foods, medical treatments, and household articles. He once designed product packaging for a certain Italy-based provolone brand. The brand then created a sales record as high as Euro 200 million that year, rapidly expanding its market share in Italy to 50%.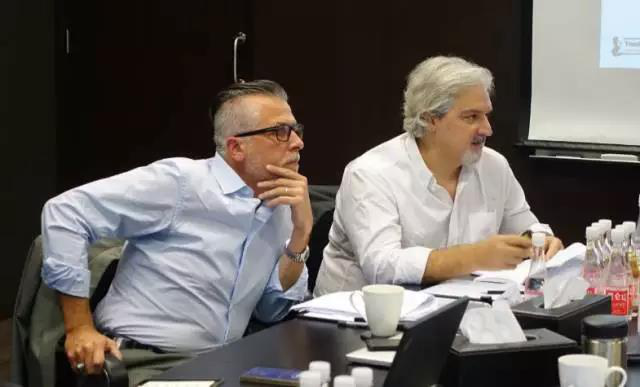 The business of Mr. Hasan Fadlallah, a partner from the Middle East, focuses on Dubai, covering countries such as Saudi Arabia, Egypt, and Lebanon. The company has been providing consulting services on strategic positioning for numerous local famous enterprises and brands.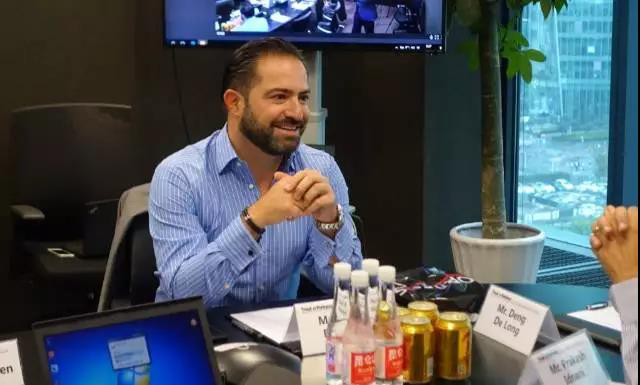 Mr. Fernando Aviles, a partner from Mexico, shared his 7-year strategic service for USA-based United Airlines, demonstrating his ways of helping the customer expand air routes in Latin America to dramatically increase revenues by using positioning theory.
Trout & Partners (the Philippines) has been providing services for multiple industries such as the telecommunication and mining industries. In addition, it has been holding positioning theory seminars with the World Trade Center to help start-up enterprises achieve good results despite fierce market competition.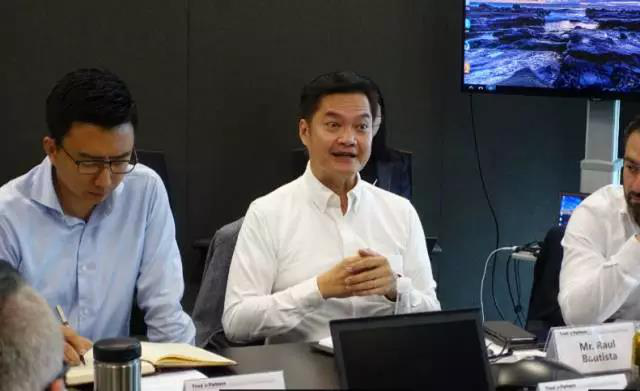 As the host, Mr. Huo Huaqiang, a partner from Trout & Partners (China), introduced the company's 15-year history and shared many cases, arousing each partner's enthusiasm to discuss.
During the September 21 conference, the partners also discussed current market opportunities and cooperation models emerging in the business environment of globalization. According to Mr. Deng Delong, Trout & Partners hopes to enhance the cooperation and win-win situations of global networks by sharing the leading positioning practices and business models currently employed worldwide.
This successful conference marks that the global networks of Trout & Partners have reached an unprecedented new level of success. In the future, the company will provide consulting services related to globalized strategic positioning and promote improved development of positioning theory by gathering the wisdom of professionals worldwide.
This Marketing Insight Made Papa John's A Household Name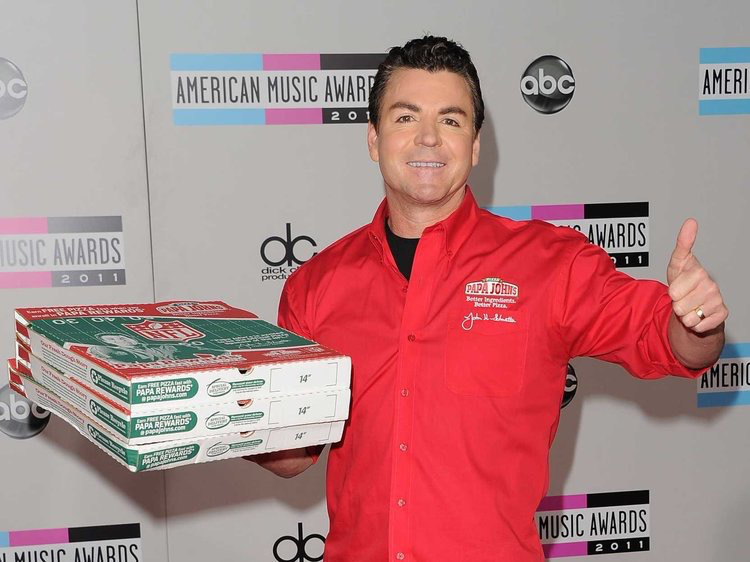 Before John Schnatter became Papa John — and moved into a $7.6 million-dollar estate— he was making pizzas out of a closet in a bar in Indiana.
It was 1983. Schnatter had been rejected from law school. Around the same time, his father bought a down-on-its-luck tavern called Mick's Lounge, and Schnatter started to run the place.
About half a year later, he set up a pizza oven and started selling pies, using skills he'd built from working in pizza joints growing up.
Within three months, he paid off half of the bar's debt.
"At 22, I had something I loved to do, make pizza, and something I was good at, running a business," he told the The Courier-Journal.
The company went public in 1993. The following year, it opened its 500th store, and by 1997, it had 1,500 stores. Today, Papa John's has over 20,000 employees and made $401.4 million in revenue last quarter On stage at a National Small Business Week event in Washington, D.C., last week, Schnatter revealed the critical insight that propelled the company to such success.
"At the time, Domino's owned speed, Caesar's owned price, Pizza Hut variety, and 65% of the marketplace was independents," he said. "So I said, 'What if you had a chain that acted like an independent? What if you had a chain focused on quality?' It's pretty obvious."
Schnatter said that the idea was shaped by marketing guru Jack Trout and his 1981 book "Positioning: The Battle for Your Mind." Named by Ad Age as the greatest marketing book of all time, Trout's 1981 text argues that brands only exist in the minds of consumers.
To get an understanding of positioning, marketing consultancy Optimization Group explains:
The breakthrough part of the (book) is that 'a positioning exists only in the mind of the customer.' Ries and Trout felt that, in an era of information overload, which at the time was driven by continuous streams of advertising messages, the consumer would only be able to accept and absorb those messages consistent with prior knowledge or experience. 'Positioning' would help the advertiser break through the message clutter. 'Positioning' presents a simplified message consistent with what the consumer already believes by focusing on the perceptions of the consumer, rather than on the reality of the product.
This is the brilliance of Papa John's gambit: Customers were already familiar with eating quality pizza — their local vendors had been delivering it for years. But no national company had organized itself around quality while benefiting from the economies of scale offered by a nationwide corporation
Hence the tagline the company has used since the mid '90s: Better Ingredients, Better Pizza.
By making inroads into the space of "quality" in hungry eater's minds (or is it stomachs?), Schnatter was able to take a huge slice out of the now $36 billion pizza industry.
We mourn the loss of Jack Trout, "The Father of Positioning"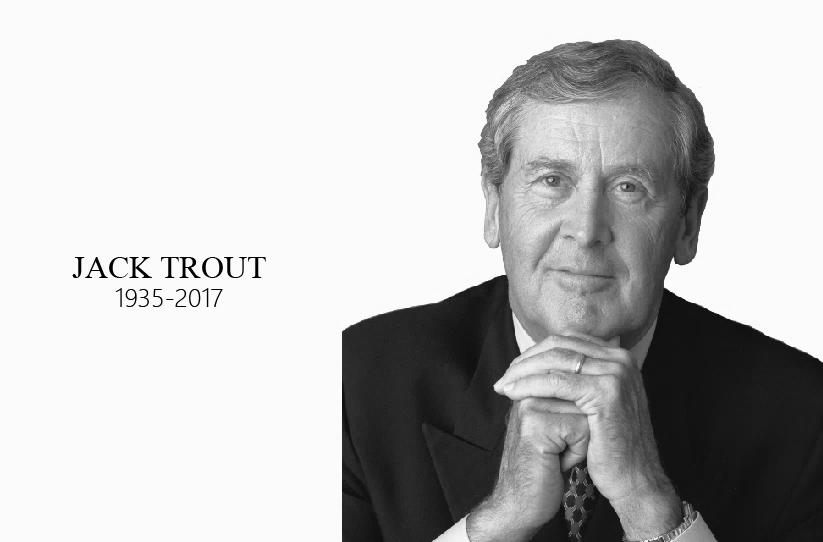 Trout & Partners China has lost a beloved mentor; the global business world has lost a great strategist. From this day forth, there is one less person that genuinely cares about China's economic transition…
48 years ago, Jack Trout had an insight into the nature of a business that the key to success is to be different in the mind of the prospect and that is Positioning. And just like this, Trout created an era of positioning that belonged to him. He and his theory of positioning became a navigator for companies crafting strategies. No matter the complexity of the situation and the company, Trout was able to handle the challenges with grace. One can hardly imagine and believe that a man such as Trout offering penetrating insights and amazing creativity, existed without witnessing and being impressed by his deeds first-hand. Even facing a large company, Trout said all he needed was 15 minutes to find a position. Oftentimes, the position can materialize in dramatic ways leading into the minds of the prospect. Perfecting an art such that its practice seemed effortless, and finding joy through its perfection, Trout is our relentless leader in both work and life.
Trout loved positioning so much, and devoted his lifetime to promoting, practicing and developing the theory of positioning. He still made speeches all over the world although he was in his eighties. Even in sickness and up till several days before he passed away, he was still offering guidance to a Spanish project. If he was given a little more time, he would be able to offer clarity to more enterprises mired in fog when crafting strategies and help dissipate gloominess in the global economy.
Information explosion, choice increase and fierce global competition is the reality that we are facing. Under these circumstances, only positioning can secure the prospect's preference. The positioning guru is gone, but the positioning era has just begun in the global business world.
Trout established the Chinese branch office in 2002 and offered his vision for the China office, and that is "aiding China's economic transition". Over the past 15 years, he has been paying close attention to news from China nearly every day. On some days, Trout would be overcome with a sense of elatedness when there was good news, but overcome by sadness if otherwise. Undeterred by the difficulties, Trout visited China on many occasions to exchange ideas and offer guidance. Trout led us onto the path of positioning, his foresight, level of attainment and tenacity as constant as the North Star will shine on and inspire us at all times. Now, we shall bear the torch of positioning that created history, undaunted by the enormity of our goals and relentlessly move forward.
Trout & Partners
June 7, 2017